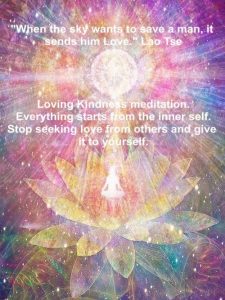 "When the sky wants to save a man, it sends him Love" – Lao Tse
Loving Kindness meditation.
Everything starts from the inner self.
Stop seeking love from others and give it to yourself.
Become a shining light of Love.
Meditation is a direct channel of communication between the universe and your inner self.
When the body is infused with the energy of light and love, it is then able to share it with anyone.
(Extract from "The world's energy within your hands" by Maha Nammour)
Maha Nammour will give a meditation class this Monday the 20/03/2017 at 7:30 pm at Al Safir Hotel, Bneid al Gar.
Infos or booking: +96594020130