Dear all,
We are happy to invite you at Maha Nammour's lecture in Kuwait on the 4/07 at 9 pm at Al Corniche Club.
The lecture will be in arabic, and open to all guests (including non-members of the Club).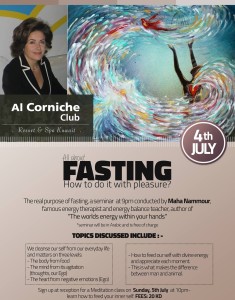 The topic will be:
FASTING:
what does it really mean?
How to do it with pleasure?

First part: Fasting is not only abstinence from food, it is first calming the mind and the heart.
We cleanse our self from our everyday life and matters on three levels:
– The body from food
– The mind from its agitation (thoughts, our Ego)
– The heart from negative emotions (Ego)
By fasting on these 3 levels, abstaining from food is not difficult and a source of suffering anymore. We enter into a state of fasting and cleansing with pleasure! in order to leave space to feed our inner self with the divine energy of Love and Light. We are usually in a state of hunger for our habits.
Second part : How to feed our self with divine energy and appreciate each moment.
This is what makes the difference between man and animal.
Maha Nammour will then give a Meditation class on the 5/07 at 10 pm to teach us how to feed our inner self.
Fees: 20 KD
For booking, please contact us at +96594020130 or Al Corniche Club at +965 2225 5255
Looking forward to see you!